 
Le Nez du Vin: El gran libro-objeto (54 aromas)
Libro-guía de Jean Lenoir para desarrollar el olfato y analizar mejor los vinos que esté catando.
In stock, delivered within 1 to 5 working days
Payment : transaction secure
On our site your payment is fully secure only the bank has access to your information.
Worldwide Shipping
France, European Union, Worldwide
Delivery
At home or Choose Pick-up Point and collect your package when it suits you!
Description
Gran libro-objeto contiene:

- Presentados en un libro-objeto muy refinado, 54 aromas de gran calidad cobrarán vida en su memoria olfativa y encontrarán una verdadera resonancia en los grandes vinos:
Notas frutales: 1 limón, 2 pomelo, 3 naranja, 4 piña, 5 plátano, 6 lichi, 7 melón, 8 moscatel, 9 manzana, 10 pera, 11 membrillo, 12 fresa, 13 frambuesa, 14 grosella, 15 grosella negra, 16 arándano, 17 mora, 18 cereza, 19 albaricoque, 20 melocotón, 21 almendra (corazón), 22 ciruela pasa, 23 nuez.
Floral notes: 24 espino blanco, 25 acacia, 26 tilo, 27 honey, 28 rosa, 29 violeta.
Notas vegetales: 30 pimiento verde, 31 champiñón, 32 trufa 33 lías de vino, 34 cedro, 35 pino, 36 regaliz, 37 brote de grosella negra, 38 heno cortado, 39 tomillo, 40 vainilla, 41 canela, 42 clavo de olor, 43 pimienta, 44 azafrán.
Animal notas: 45 cuero, 46 almizcle, 47 mantequilla.
Notas tostadas: 48 pan tostado, 49 almendra tostada, 50 avellana tostada, 51 caramelo. 52 coffee, 53 chocolate, 54 nota ahumada.

- Las 54 cartas del juego ofrecen una verdadera correlación entre los aromas y los vinos.

- Un libro completo, con abundantes ilustraciones, que muestra cómo se manifiestan los 54 aromas clave en cada cepa y en cada viñedo de Francia, de España y del mundo. Un compendio excelente de conocimientos y placer para los profesionales y los aficionados del vino.
Leer y descargar un capítulo del libro :

.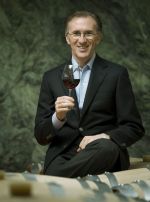 "He utilizado Le Nez du Vin al comienzo de mi carrera para ejercitar y desarrollar mi agudeza olfativa. Hoy en día me sigue acompañando cuando enseño y constituye una ayuda invalorable para los cursos que doy a los estudiantes de las escuelas de hostelería, futuros embajadores del gusto, que difundirán la cultura del vino en todo el mundo.'
Paolo Basso, Mejor Sumiller del Mundo in 2013,
Mejor Sumiller of Europa in 2010

Libro-objeto de tela color carmín, formato 294 x 382 x 55 mm, peso 3,750 kg.

Fabricado en Francia.
Se garantiza que nuestros aromas se pueden conservar durante 5 años. En buenas condiciones, un libro cofre se puede conservar una década.
Details
Data sheet
Collection

The nose of wine

Language

Spanish 🇪🇸

Publisher

Jean Lenoir
No customer reviews for the moment.